Press
(select)

THE NEW JERSEY OBIES
Given by The Star Ledger for achievements at the state's smaller theaters:

Best Actress: Jenelle Sosa ("Psycho Beach Party," The Theatre Project, Cranford). "She played six characters but wasn't doubling; Sosa was exhibiting a multiple personality disorder. With her gift for mimicking voices, she had no trouble playing an African-American, Jewish-American, eight-year-old girl, lower-middle class male, surfer girl and — oh, yes — a no-nonsense dominatrix.
"
-- Peter Filicia, The Star Ledger
PSYCHO BEACH PARTY - THE THEATER PROJECT
"How lucky for theater goers...Sosa has an amazing gift...She's hilarious...Audiences will chuckle at Chicklet, especially the way Jenelle Sosa plays her. " --Peter Felicia, The Star Ledger
"Chicklet is played here with verve and skill by the delightful and reliable Jenelle Sosa." -- Bob Rendell, Talkin' Broadway
[Jenelle Sosa] is sensational -- Susan Myrill Dougherty, The Westfield Leader
"The versatile Jenelle Sosa...is certainly an actress to be reckoned with." -- Bea Smith, Worrall Newspapers
FULLY COMMITTED - THE THEATER PROJECT - 2008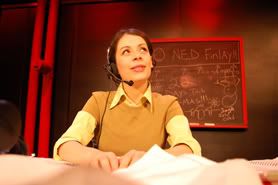 "...[T]here's no reason why a woman can't make Sam short for Samantha -- and certainly not when someone as accomplished as Jenelle Sosa is raring to go....
The pleasant voice Sosa uses with callers demonstrates why Sam would be hired for such a job. But that's not the only voice Sosa appropriates, for she must bring every character who calls the restaurant to verbal life. Sosa has more distinctively real accents than bouillabaisse has ingredients: She goes from Mandarin to Midwest, Long Island to Lebanese, and plays both the young and the mature.
Much of the fun of Sosa's vocal gymnastics during the 75-minute production is that we begin to recognize who's calling just from her intonations.
Yet there's more to creating a complete picture of Sam, the type who believes accepting a job goes hand-in-hand with performing it well. Because Sam is always much nicer to her tormentors, audiences root for her. And the winning Sosa makes us want to book reservations for her next event." -- Peter Filicia, The Star Ledger
------
"Sosa tackles the mind-bogglingly difficult task of single-handedly portraying dozens of characters simultaneously. How she does this is anybody's guess, but it is fascinating and awe-inspiring to watch. Sosa's work in 'Fully Committed' is one of those performances you have to see to appreciate, since it is easy to say the actress plays many different roles; quite another thing to see and hear how she uses her virtuoso voice talents to bring a full cast of characteres to life all at once." -- Ellen Dooley, Suburban News
------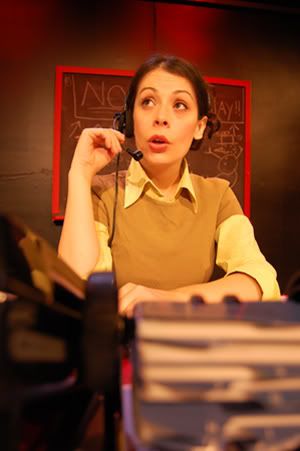 "In a departure from the original production, and possibly for the first time anywhere, reservationist Sam and her three dozen or so callers of both sexes are being portrayed by a woman. This is perfectly appropriate (audience members will instantly conclude that "Sam" is here short for "Samantha"). It becomes sublime when that woman is the fresh and talented Jenelle Sosa....
The most interesting and exciting part of this production, the casting and performance of ...Jenelle Sosa. Sosa portrays each of her roles with a distinctive and witty rapid fire series of voices, accents, and speech patterns which clearly delineate each from the other. There also are perceptible changes in body movement and facial expression. In light of the pace of the dialogue, the detail achieved is quite an accomplishment.

In viewing such a tour de force, the viewer sees the interstitial stage persona of the performer. And the dynamic, diminutive young actress appealingly radiates intense energy with a calm, confident center...It would come as no surprise to learn that the Theatre Project has produced Fully Committed in order to showcase her talents.
...Jenelle Sosa is a star. ...everyone who gets to see this production of Fully Committed will be grateful." -- Bob Rendell, Talkin' Broadway
FULLY COMMITTED - THE THEATER PROJECT - 2011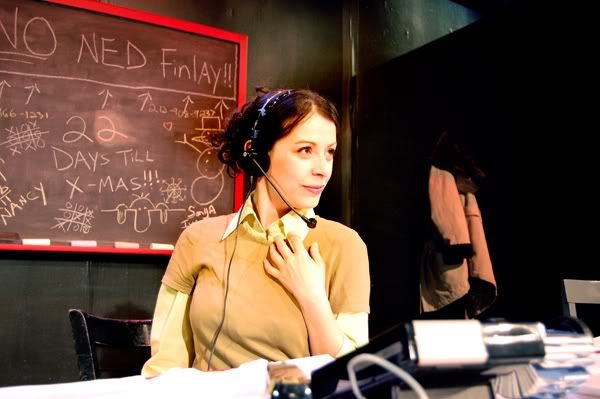 "Someone should bring Sosa sweetheart roses for her knockout performance in "Fully Committed."...Sosa triumphs in the lead role of Sam and all 39 of the other characters in the play...Over a fast paced one hour and 30 minutes — there's no intermission — we come to know, love and really root for our earnest heroine...and Sosa keeps us laughing throughout. As to her 39 other characters...Sosa nails them all. She physically inhabits diverse genders, accents, ages, ethnicities, classes, sexual identities and brings each character alive. She switches body language and voice with the speed that most of us blink our eyes. "Fully Committed" is more satisfying than any four-star meal and will cost a lot less." -- Carol Selman, The West Orange Patch
"...the magnificent Jenelle Sosa as Sam...Merely by altering her voice, posture and adding a few gestures to signal the change in character, Sosa impersonates 50 different people calling on three telephones in a performance that is nothing less than astonishing...In its New York run, Fully Committed was performed by a male Sam, but Delaney's substitution of Jenelle Sosa hasn't dimmed the play's impact one bit. In fact, the exchange with her friend Jenny takes on a sharper edge with the competition between two women becoming even more catty. And Sam's concern for her recently widowed Dad is both more believable and touching. Special kudos to Jenelle Sosa for memorizing all that dialogue!" -- Ruth Ross, NJ Arts Maven
A BODY OF WATER - GARAGE THEATRE GROUP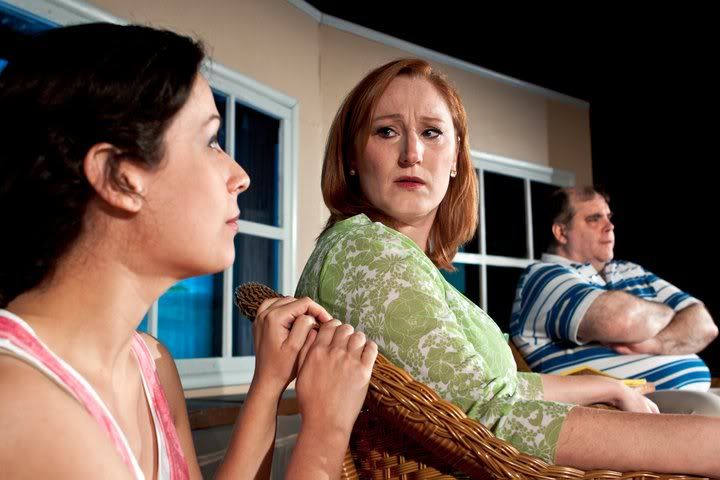 "In recent seasons, Jenelle Sosa has established herself as arguably New Jersey's finest young actress. Sosa is blessed with a soulfulness which she combines with her intuitive acting to enable her to imbue the enigmatic Wren with an arresting variety of colors. Sosa's strong performance led me to an interpretation of the play which would make Waiting for Wren an appropriate title for it." -- Bob Rendell, Talkin' Broadway
PENNY PENNIWORTH - THE THEATER PROJECT
"Sosa plays the title character, who looks ripe to be roped to railroad tracks. She displays the perfect innocent voice, raises her hand to her chin in the appropriately melodramatic fashion, and shows a face as guileless as Little Bo Peep's." -- Peter Filichia, The Star Ledger
"In one scene, Jenelle Sosa as our heroine Penny, also plays opposite herself with demented brilliance in the role of the besotted hunchback Malodorous Dump." -- Bob Rendell, Talkin' Broadway
"With her curly hair and big brown eyes, Jenelle Sosa as Penny is the quintessentially sweet young thing, naive and trusting, who is at the center of all melodramas, yet she is even more hilarious as Malodorous Dump, especially when she has to portray the two characters at the same time. (I won't tell you how Sosa does it, but it is hilarious.)" -- Ruth Ross, NJArtsMaven.com
"It is Jenelle Sosa as Penny, however, who brings down the house...she is outrageously silly and great fun with deadpan delivery that, at times, asks her to break the actor's fourth wall to mug to the audience." -- Susan Myrill Dougherty, The Westfield Leader
"Jenelle Sosa [is] remarkable...!" -- Carol Selman, West Orange Patch
LOOSE KNIT - CENTENARY STAGE CO.
"Jenelle Sosa, whose consistently excellent performances have graced several New Jersey stages in recent years, extraordinarily extends her range...With unerring accuracy, Sosa channels the impossible behaviors and longing for affection of Margie into a performance that is at once hilarious, harrowing and heart-breaking". --Bob Rendell, Talkin' Broadway
"Megan Davis and the always reliable Jenelle Sosa are required to show Gina and Margie's respective breakdowns. Both manage to make them terrifying yet hilarious." -- Peter Filicia, The Star Ledger
"Standing out in an Olympic-quality field [is] Jenelle Sosa as Margie, who cashes in her desperation for a commitment to her therapist..." -- William Westhoven, The Daily Record
THE RUBY SUNRISE - THE THEATER PROJECT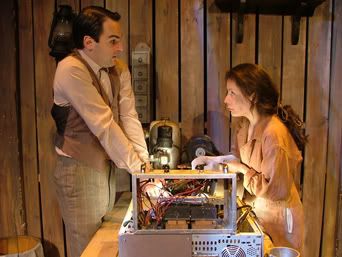 "Lucky for the Theater Project, one of New Jersey's finest actresses is on hand to play [Ruby]. Jenelle Sosa has the insatiable, single-minded seriousness of purpose that Ruby must have. To watch her shut out Henry and the world so that she can work makes an audience desperately want her to succeed." --Peter Felicia, The Star Ledger
"Jenelle Sosa, who plays the title role, is superb in her moody moments and her fierce determination to complete her invention despite a multitude of obstacles. She is seen briefly in the second act as Elizabeth, a strong-minded actress, who is
blackballed in the McCarthy era for attending a questionable meeting. Sosa is an extremely versatile actress, who can turn any role into a highly successful one." -- Bea Smith, Union County Local Source
Jenelle Sosa as Ruby/Elizabeth is mesmerizing in the two diametrically opposed roles. She is an amazingly talented actor who has a range to portray. -- Susan Myrill Dougherty, The Westfield Leader
THE GLASS MENAGERIE - ALLIANCE REPERTORY THEATRE
"Amanda is in the spotlight but Laura will haunt you. Sosa's Laura is haunting, pitiable but far from pitiful. ...you want to love her, help her, save, her. You will feel this Laura for days." - Bill Zapcic, Home News Tribune
"Jenelle Sosa couldn't be a more perfect Laura. Her performance...is excellent." - Bea Smith, Worrall Newspapers
PASSION PLAY: THE MUSICAL - THE PARK THEATER
"Among [the cast] we must mention the historic and vocal job done by...Jenelle Sosa (who embodies Mary Magdalene) [she] stole the show with...great interpretation of the repetoir, poignant voice...delivery and heart..." --translated from El Nuevo
SOMETHING TO SING ABOUT - FIRST AVENUE PLAYHOUSE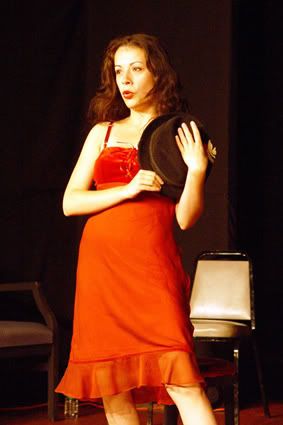 "Jenelle Sosa's 'Cabaret' is a highlight of 'Something to Sing About' [and her] impromptu 'So in Love' was lovely indeed." -- Philip Dorian, The Two River Times


A CHRISTMAS CAROL - TRISTATE ACTORS THEATER
"Jenelle Sosa excels in showing a young woman who realizes, however reluctantly, that she mustn't marry someone who's less interested in love and marriage than in shillings and pence. " -- Peter Felicia, The Star Ledger

"Jenelle Sosa...[is] a benevolent voice for the poor." -- Marcus Kalipolites, The Times Herald Record